Starting The next Zoe chapter
on
February 19, 2021
at
4:42 pm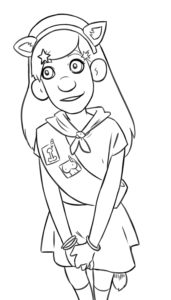 Zoe will be spending a good deal of time with those 2 guys from the porn store in the next arc and will start with a porn of her roleplaying as a woodland critter (the name for scouts in Zoe's universe).
The 8th arc was very lacking in sex, the 9th will make up for that. I expect it to be at least as long as the Zoe and mom arc (6) and the whole chapter will all be about Zoe really letting lose and experiencing things. Starting with becoming an amateur pornstar.
What would you like to see Zoe cosplay, or what theme would you like to see explored when Zoe has her film with the chubby one? With the tall bald one she will be in the above outfit, but could do candy striper, schoolgirl, cheerleader… or other for her little porno with the fat one (also considered maybe framing it as one of those backroom casting and maybe be anal virgin video).
The 8th arc will be big as I said, Zoe will both lose her anal virginity (proper, as dildo's don't count) and have her first dp threeway.
I hope you all like what is to come, just don't get too hanged up on the Zoe and Damien breakup, I lost nearly half my readers the last time I did this point in the story (her hooking up with caleb in the last version of the comic). The main conflict of the story is Zoe and Damien figuring their relationship out, this is the point of the story where the second act starts and Zoe will be going in a very self destructive direction for quite a while while she figures stuff out and grows along the way.