Zoe 18-3
on
September 7, 2018
at
1:15 am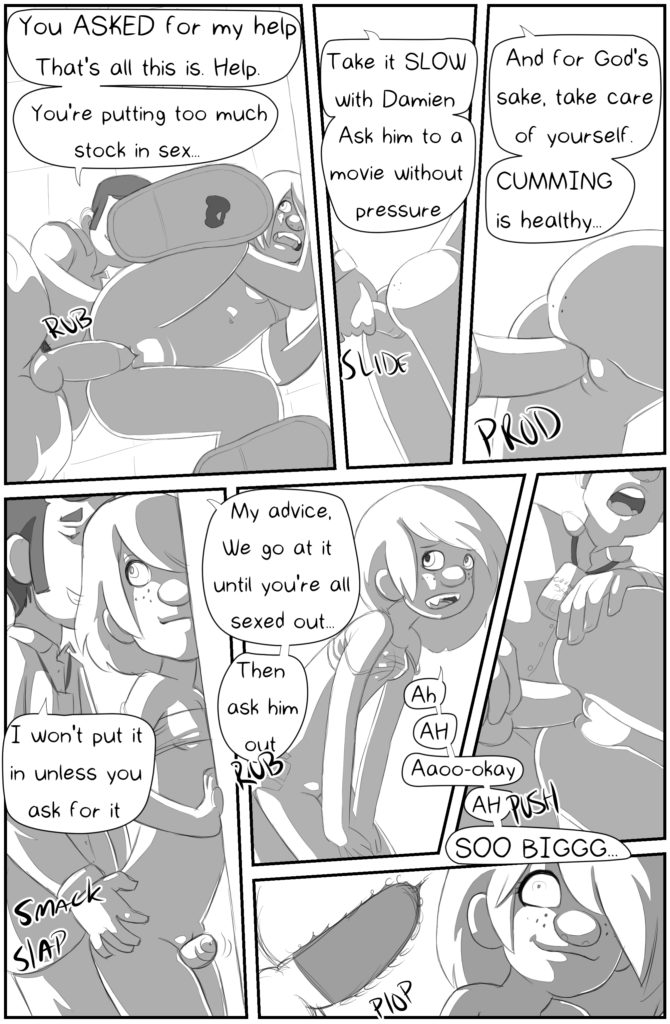 So Zoe is gunna get fucked. I originally was of 2 minds on where to go but when I sat there and explained them I like the opportunities of this over her biting him. I don't want her to jump right in bed with Damien, but I don't want to have 40 or so pages without Zoe getting fucked either. So this will be a recurring activity for Zoe. She will go get some therapy and some dick and it will allow me to exposit a bit without it feeling forced or hurting the pacing. This way I can include within the actual comic some details like Zoe's reasoning for wearing the fangs and her fears and wants in life.
Also be sure to email me with your thoughts on the comic. I made a post about that and will continue to draw up stuff for those that email me. So far only 4 people have emailed, a bit disappointed in that. The more I know about what you guys come to this comic for the better I can do to include it or at least keep it in mind to help shape things.
Some things that would be great is general likes dislikes of the comic but also things you'd like to see happen and what sort of niches or tropes you'd like to see explored in the comic. The main niche has always been things like Teen, Creampies, Pregnancy Scares, and Incest but I want to cover as many bases as possible (things like furry or futa wouldn't really work within this comic but definitely would like to get Zoe and Abi together with a strap on at some point).