Zoe 20-8
on
February 1, 2019
at
7:03 am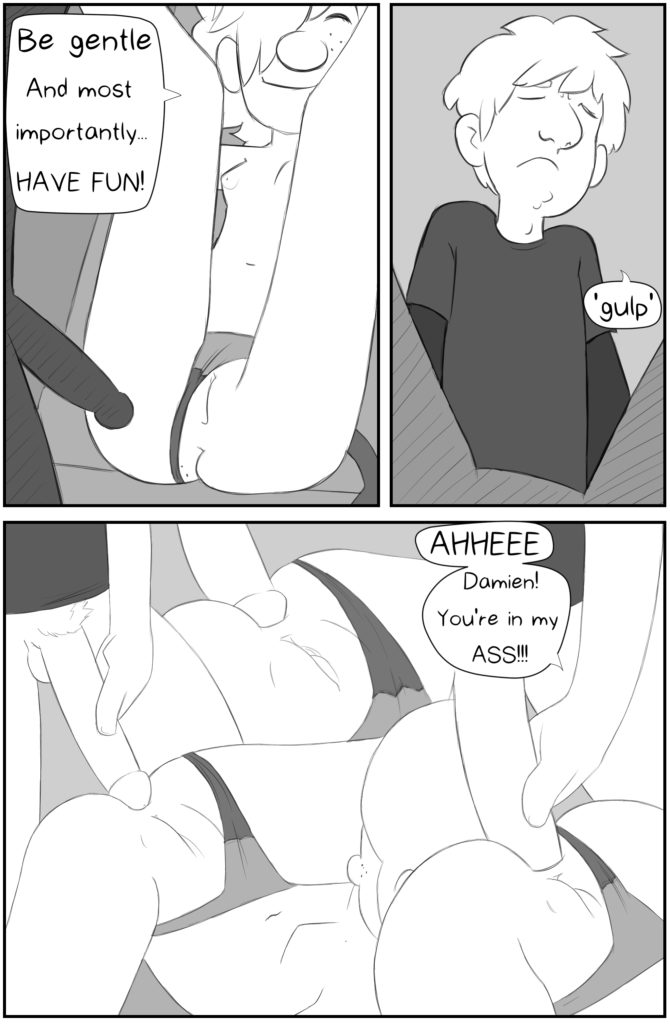 Zoe is finally getting what she's wanted for a long time. She first suggested anal to him back before the start of whats currently considered the comic, She said she didn't want to lose her virginity to him but was interested in having anal sex with him. He was not a fan of that idea. Eventually Zoe went and lost her virginity to Caleb (even though technically Damien penis had already been inside her 3 times, but Zoe doesn't count those instances as actually being "intercourse"). She eventually started anal with her uncle but they were interrupted and instead of getting a second chance she did the noble thing and stepped aside for her mom (who had that particular experience herself with Tommy). It's been almost 6 months since she first suggested anal to Damien, 6 months is an eternity for someone as impulsive as Zoe. Expect a few pages of Zoe finally getting to check this experience off her sex bucket list.
This is the last week of 2 pages. Next week there will only be 1 page (posted around 1am Friday morning), but when Valentines comes you'll be in for a treat. My VDSD submission this year will be 7 pages and in full color. Currently I have 6 pages lined and 2 of those finished with the coloring. I hope to finish lining the last page tomorrow as well as next weeks Zoe page (which only needs the tones for the last panel before it is done).
This arc will go about 5 or 6 more pages, probably all but the final page of the arc will be them having anal. The last page will be them paying for the outfits and leaving unaware that their little sexcapade was spied on.
Never got into the Dreams beta sadly, but now that the NDA has ended people are posting awesome things they've made. I am very confident that everything I had hoped to be able to do with Dreams is possible. I may not be able to use a character model to do Zoe as they have segmented joints that would look awful up close, but I think I should be able to model each panel as a sculpture and get very realistic. I've seen tons of things that I didn't even think were possible with it accomplished, including making a spot on NES Mario game complete with 8bit graphics.