on
August 16, 2016
at
1:21 pm
(UPDATE) got the car home. when got there the repair shop people had been nice enough to have pushed it out of their parking lot into the grass on the side of the road, luckily hadn't been ticketed yet, definitely won't be driving it BACK there to get the repairs done. Give someone else the money.
The car was looked at by a family friend who thinks I won't need to replace the Transmission that it just needs to be emptied and some other minor things that thinks will only cost about 300 to have done. If he is right that will be a great relief, The issues didn't happen when driving it home that stranded me earlier so it is in a wait and see dilemma right now. The same person thinks the issue might of been caused by the heavy rainfall, but I don't know enough about cars to say if that really could of caused the issues I was having. Hoping to have it looked at this weekend to have a mechanic tell me whether it just needs the little fixes or if it is something more major, hoping it can get me to and from work tomorrow) So hopefully won't be needing 1000$ like the goal is and hopefully only 300 like have been told. Which is good, because raising 1000 seemed highly unlikely.
Thanks for those that supported it so far, got 95$ in the first 12 hours and have the 1st page of the Allie and Abe comic done, as well as work on the first commission underway.
(original post)
My car broke down on the way home from work this morning. It is currently sitting in a auto repair shop that happened to be where the car decided to die. I know nothing about cars but from googling it seems I need a new transmission, which would run me MORE than what my shitty car cost in the first place. So need to hurry and get money to get something else so can get to and from work. So am calling on all of you to help. Anyone who knows what it is like to be stranded on the side of the road with the knowledge that without this car you are dead in the water. Getting a ride to and from work when I work 3rd shift is next to impossible and I have 100$ till my next paycheck, and that check is pretty much claimed already by bills…
SO to the point. I am doing a GoFundMe to raise whatever I can to help get this dealt with. I didn't put any rewards on there because I am in a hurry and don't have time to read their fine print on whether porn is allowed for a reward (Kickstarter is iffy on it but has let it slide so far) So instead of offering the rewards there I will post them here
give 5$ and I will send you a pdf of a new one shot porn comic I am working on.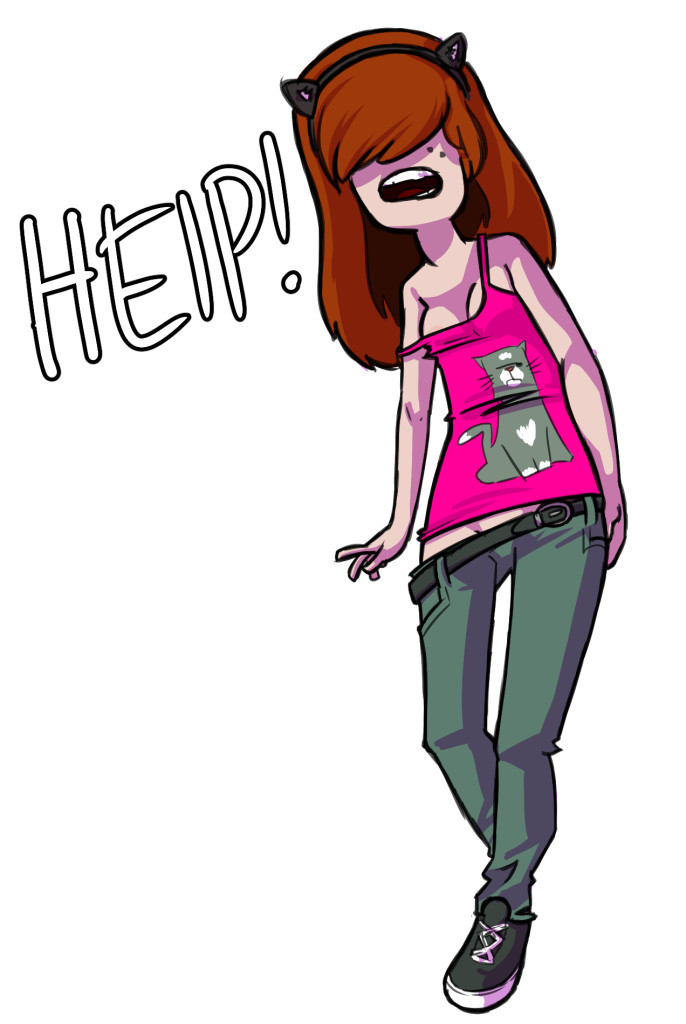 Serendipitously I started working on this last night before heading out to work. It is a redesign of a past one shot that I started but didn't finish called Allie and Abe. It is a short anal incest comic between a brother and sister. Will be about 5-6pgs and full color. My goal when restarting it last night was to attempt to draw in a more american cartoon style. I have noticed it is a popular style with a lot of american hentai artists, I don't watch cartoons except for Bojack and Bob's Burgers, but I know that that steven universe is supposed to be really popular. So in my constant striving for artistic growth I took it upon myself to shake things up a bit. I also gave her FAKE cat ears because thought it would go good with the character.
A bit about the story (what little there is) Allie picks her big brother Abe up from the airport. He has been out of country going to college for the past 4 years and now Allie is all grown up and accidentally lets slip her nontraditional feelings for him. He turns her down, but then she ups the ante with tossing anal into it…
SO ANY AMOUNT IS APPRECIATED even just a dollar helps. BUT as far as reward tiers go.
5$ gets you a digital copy of the Allie and Abe comic (will be completed by the end of the month)
20$ gets you the digital Allie and Abe comic and a speed drawing commission of whatever you want and 1 month of VIP access
50$ gets b/W commission and the Allie and Abe comic and 1 month of VIP access
70$ gets Colored commission and the Allie and Abe comic and 1 month of VIP access.
200$ get the colored commission the Allie and Abe digital comic 1 month of VIP access and I will also draw you into a page of Zoe or let you name a character, your choice. (may be a while till receive that as will need to be a natural place that doesn't ruin the comic ie not going to have you just walk in the room as Zoe and Caleb are trying out anal 8o)
Commissions are done in first come first serve order, refer to the commission page found by clicking the image on the side of the Zoe comic for details on pricing more detailed things such as more than 1 character.
gofundme.com/2kzr4j9w You can find the page here. Thanks you all for checking out my comic, your visits, comments, and money all are appreciated. Having you guys visiting my comic regularly is about the one thing that keeps me going so thank you all.